Kids Day Activities
The next Boston Sea Rovers Kids Day will be in 2022
due to the estimated vaccination schedule for young children

There will not be a Kids Day in 2021

Thank you to all of our presenters in 2020, we are looking forward to future fun Kids Days!
Previous Boston Sea Rovers Kids Days Included:
Fun ocean related activities and presentations during the day from 10am-2pm.
Admission to these special Sunday Kids Day programs for children and adults are FREE!* Children must be accompanied by an adult.
Activities and presentations take place upstairs on the Second Floor (Access by ballroom staircase).
New England Aquarium Traveling Tidepool
Get up close and personal with tidepool animals!
National Marine Life Center: Saving Sea Turtles!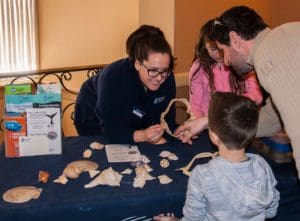 Learn about sea turtles in Massachusetts, why they get sick, and how we can help them! A fun, interactive program using models where kids can explore the fascinating world of turtles.
Atlantic White Shark Conservancy Sharktivities Event: Shark Myth Busting
Sharks-true or false? Learn some of what is really known about sharks and some of the stories that might not be true. Learn how to tag a shark using a model and what scientists are learning about our local white sharks. A great chance to ask your own questions about sharks.
Mass Audubon's Joppa Flats Wildlife Sanctuary: The Amazing World of Penguins!
Learn about some of these comical creatures! Can you walk like a penguin?
Come find out with these hands on activities!
Paul Cater Deaton presents 2 family friendly video adventures with CW Cephalopod
That Wild and Crazy Octopus (10 min) and CW Cephalopod's Philippines Muck Adventure (11 min)
Sharks4Kids: Dive into the World of Sharks!
Learn about sharks with a virtual reality shark dive, see what it is like to tag a shark with a mock shark tagging activity and see what you know in the shark challenge game.
*Please note: While Kids Day events are FREE, Tickets are required for regular Boston Sea Rovers Saturday and Sunday Daytime programs and Evening Film Festival.