2020 Diver of the Year – Joe Hohmann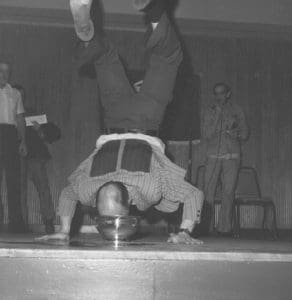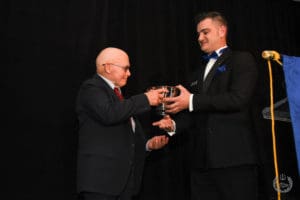 One of the great Sea Rovers, Joe Hohmann is a true American legend and a hero for us all.  Joe has been actively involved with this club since 1958 when he first volunteered to help out with one of the early clinics.  His excitement for diving and passion for life is as strong now as it was over sixty years ago.  Joe enlisted in the US Navy in 1955 after the Korean War as a Gunner's Mate, quickly volunteered for additional training, and soon found himself trying out for the Underwater Demolition Teams.  During the brutal training in Virginia, Joe held the obstacle course record for 3 months, and he was the only trainee to ever make it across the Death Trap during Hell Week.  He served as a member of UDT 21, stationed in Little Creek, VA – the noted group that would later become SEAL Team Four in 1983.  Leaving the Navy and anxious to find exciting things to keep him busy as a civilian, he found out about the Boston Sea Rovers, and that partnership provided Joe with plenty of excitement over the next several decades, both in and out of the water.
Over the ensuing years, Joe completed 5 Boston Marathons and dove year-round in New England and beyond.  One of the very first divers to explore the wreck of the U-853 off RI, he was part of one of the first non-commercial explorations of the Andrea Doria in 1967.  As he recalled of that dive later, "It was still in very good shape, with rows and rows of portholes as far as the eyes could see.  We didn't get much off it except great memories.  After Gimbel and Cousteau, we were probably only the 3rd or 4th group to ever visit the wreck."  In the late '70s, Joe notched another first, being one of the very first divers to visit the wreck of the Chester Poling, that had gone down just a few short months earlier.
In the late 1960s and early 1970s, he was directly involved with three different underwater habitat projects, including the Early Bird project on the Doria and the FLARE project with U. Miami off Florida.  He was also one of seven Boston Sea Rovers that were the 24/7 support divers for the EDALHAB project with WHOI and UNH, a four-day saturation diving effort in a habitat placed in 70' of water off the Isles of Shoals, in April of 1971.  Not the best time of year to be making repetitive dives in wetsuits to re-supply the 3 UNH students, that's for sure!  Joe has had numerous jobs throughout his career, including working as a commercial diver for 30 years in Boston Harbor.  Some of the more memorable jobs that he undertook were dealing with a variety of issues with the Deer Island sewerage pipeline, making in-water repairs to the oil tanker City Service Baltimore, and repairing the pilings, hardware and water intakes for other notable fixtures in the harbor such as Pier 4 and Hook's Lobster Pound.  He also worked as an arborist, spending many years high above the ground, bringing monster trees down, one limb at a time.  To this day, Joe still feels that his most important accomplishment lies even closer to home, and is a proud husband, father and grandfather.  But perhaps, it is also his ability to bring out the best in others, as fellow club member Bob Ballard credited Joe for giving him the inspiration to go and find the Titanic (although, to be honest, Joe really didn't think he could do it….).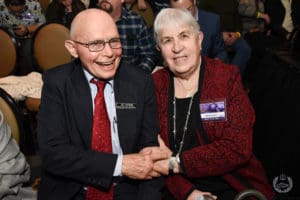 For all these deeds, and countless other acts of kindness and unselfishness, it is with great pride that the Boston Sea Rovers award our 2020 Walter Feinberg Memorial Diver of the Year Award to Joe Hohmann.  The inscription on the Paul Revere silver bowl reads:
Joe Hohmann
The Living Spirit of the Boston Sea Rovers
If You Can Dream It, You Can Do It