Exhibitor Information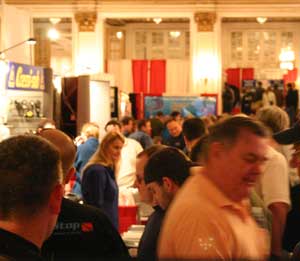 Dear Friend/Exhibitor,
Thank you for your interest in the Boston Sea Rovers.  As a way of introduction, the Boston Sea Rovers are a non-profit organization dedicated to increasing awareness and appreciation of the underwater world. We are proud sponsors of our annual Clinics – a full weekend event featuring daytime seminars, workshops, exhibitors, and an evening film festival.  Proceeds from the Clinics are used for scholarships, internships, in support of other non-profit organizations, and to continue and promote the goals of our organization. We are eager to have your participation and support in this effort.
In 2021, the Boston Sea Rovers are hosting the annual Clinic at the DoubleTree by Hilton-Boston North Shore in Danvers MA.  This location features fantastic amenities for exhibitors and attendees.  Visit our Hotel Information Page for details.
Here are just a few highlights:
Expanded exhibit hall – The exhibit hall now includes convenient, relaxing set-up on Friday, with two full days open to the public on Saturday and Sunday!
Free admission to exhibit floor
On-site pool (4 feet deep) near the exhibit floor for use by dive stores and exhibitors to host Discover Scuba programs or other equipment demonstration activities.
Over a dozen workshop/breakout rooms available for specialized training from Friday through Sunday.
No union labor requirements or added costs for set-ups or break-downs, which means lower drayage costs!
Reasonably priced hotel rooms with discount rates of $135/night.
Free parking at the hotel!
Danvers boasts easy access from all points, including Boston via major highways such as RT 95, RT 128 and RT 1.
Low cost and convenient transport to and from Boston's Logan Airport, available for as little as $22.00 per person round trip. For Logan Express shuttle details, visit:  http://www.massport.com/logan-airport/Pages/Peabody.aspx. This regularly scheduled bus/van will drop you off at the Peabody terminal, 3 miles from the hotel, and then the hotel van will pick you up from there. Be sure to call the hotel ahead of time to arrange transport and save yourself some time: DoubleTree by Hilton-Boston North Shore,

50 Ferncroft Road, Danvers, Massachusetts, 01923, TEL: 1-978-777-2500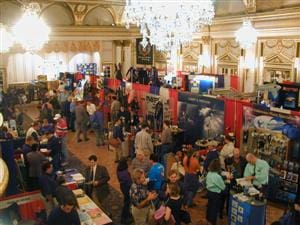 2021 Exhibitor/Advertiser Contract
We are offering significant discounts and incentives for early commitments. It is our hope that you can be involved in this year's show. If you have any questions, please do not hesitate to contact us directly. We are here to answer your questions and assist you in finding the best manner in which you and your business can be involved.
Sincerely,
Mike Guglielmo – Exhibitor and Corporate Sponsorship Co-Chair
sales@bostonsearovers.com