2021 Saturday Evening Film Festival

2020 Sea Rover Evening Show Presenters
Seating begins at 7:30
Show begins at 8:00 pm sharp
The jewel of each annual Clinic is our Saturday Evening Film Festival. The Sea Rovers take pride in the fact that we have continuously blazed the trail in the underwater world, premiering more speakers and presentations from our stages than any other show.
Presenters will be announced as they are confirmed and are listed below in no particular order.
Joel & Jennifer Penner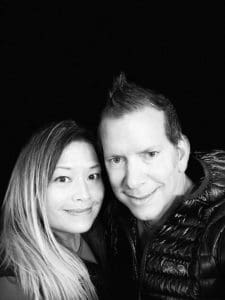 Joel and Jennifer Penner are the owners of Newmediasoup, LLC, a multimedia and event coverage company based out of Northern California. Joel and Jennifer create underwater images that captivate their audience and convey the beauty of what lies beneath the waves. Their love for the ocean is limitless; if they could, they would be in the water everyday with their cameras. By sharing their passion for the ocean through stills and video, their hope is to increase awareness of the importance of ocean conservation and preserving marine habitats for future generations to enjoy. As regular contributors to many scuba diving publications, they also regularly test products for Backscatter Underwater Video & Photo and assist with video editing features related to new products. During the pandemic, Joel and Jennifer created GoAskErin – Live and OnDemand with Erin Quigley to provide free Adobe Lightroom, Photoshop and Premiere Pro training via Zoom. As a licensed commercial Drone Pilot, Joel also likes to capture aerial cinematography for use within their videos. Joel and Jennifer are proud to be Associate Members of the Boston Sea Rovers.
Rick Simon & Jennifer Sellitti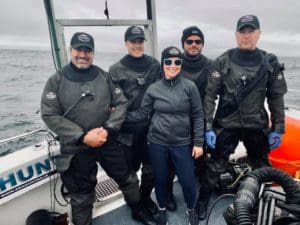 Richard M. Simon grew up diving and crewing on New England dive boats. Rick is a Boston Sea Rover & Frank Scalli Intern (2005) and  a TDI dive instructor holding both recreational and technical ratings. Rick is also the president of Manta Industries- a dive equipment manufacturing company; and is the vice president of Shoreline Diving Services, INC.- a commercial diving company specializing in inspection, salvage and construction. Rick is an avid diver; especially enjoying cave and wreck diving mostly on the East Coast but really anywhere around the world. When he is not diving, he enjoys spending time on the farm with his wife Erin and their many farm animals.
Jennifer Sellitti is a lawyer, diver, and USCG licensed captain – not always in that order. A criminal defense attorney by profession, she spends her spare time hunting, diving, and salvaging shipwrecks aboard D/V Tenacious, a vessel she runs with her partner, Joe Mazraani. Jennifer is a regular crew member and manages a number of topside operations for the team. In addition, she serves as communications director for D/V Tenacious and its parent company, Atlantic Wreck Salvage, L.L.C. Jennifer is passionate about helping the public understand the historical importance of shipwrecks and salvage in the North Atlantic. This means going beyond the wreckage to find human stories that appeal to broad audiences. She is the founder of All Aboard!, an educational program that provides maritime content to middle and high school teachers and uses shipwreck exploration as a backdrop for larger discussions about world history.
Michel Labrecque and Julie Ouimet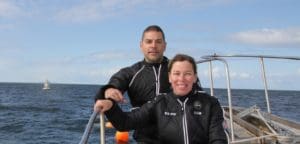 Fellows of the Explorers Club (FI'16) and Associate Members of the Boston Sea Rovers, Michel Labrecque and Julie Ouimet have been leading expeditions for several years.
They have traveled to the four corners of the globe to dive and gather images and have twice carried the Explorers Club Flag. They have lead two scientific missions to Clipperton Atoll, the most remote atoll on the planet and are the recipients of the Explorers Club 2018 Citation of Merit, awarded in recognition of their "exemplary accomplishments in Field Science and Conservation"
Guest speakers in Canada and the United States, their underwater images have been widely presented in North-America as well as is several European countries. They are the co-founders of a international underwater film festival, write articles and are columnists with En Profondeur dive magazine. As a team, they produce short videos and documentaries that have aired on various TV networks including Discovery during Shark Week. Michel and Julie previously owned an award-winning PADI 5-Star Instructor Development Center in Quebec. They have worked for dive industry leaders and have been named Brand Ambassadors as a result.
Michel's work as a photojournalist focuses on wildlife, conservation and ocean protection. His photos and articles are internationally published in several magazines and has recently published a coffee-table book. Michel is an accomplished technical and recreational dive trainer and a Rebreather Diver. In 2016, he was named as a PADI Ambassador.
Julie is an expedition videographer who has developed skills for filming in remote locations and harsh conditions. She has filmed and produced over 30 short films screened and honored in international film festivals. She is a Trimix and Rebreather diver and a seasoned dive educator. Julie is a member of the Ocean Artists Society and was, in 2019, inducted into the Women Divers Hall of Fame.
Howard and Michele Hall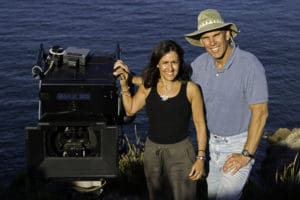 Howard and Michele Hall are wildlife filmmakers who specialize in marine wildlife films. Working as a team, Howard and Michele have produced and directed many television films including a National Geographic Special, three episodes of the PBS series Nature, and the five-hour PBS series Secrets of the Ocean Realm.
 The Halls are perhaps best known for their underwater IMAX films. IMAX films produced and/or directed by Howard and Michele include Into the Deep, Island of the Sharks, Deep Sea 3D, and Under the Sea 3D. Howard and Michele have participated in many other underwater IMAX productions in various capacities, including MacGillivray Freeman Films' IMAX film Coral Reef Adventure, Journey to the South Pacific and Humpback Whales.
They are currently in production on two films. One is an IMAX film, Secrets of the Sea, scheduled for 2022. The second, a 4K feature-length documentary called Soul of the Ocean, will be completed in late Spring 2021, and will later be available on a yet-to-be-determined streaming venue.
The Halls strive to make family-friendly films that raise awareness of and increase appreciation for the marine environment. During the past 30 years, the films they have produced have been seen by thousands of children and adults. They consistently receive feedback in letters, emails and in person from many who have said that not only have their films increased their knowledge of the marine environment, but they have also been the inspiration to turn career choices toward marine sciences and / or environmental issues.
Howard is a member of the Directors Guild and the Academy of Motion Picture Arts and Science. Michele is a member of the Academy of Television Arts and Sciences and the Women Divers Hall of Fame. The various awards they've received include being inducted into the International Scuba Diving Hall of Fame and being named as honorees of the Hans Hass Award. Both are recipients of the Academy of Underwater Arts and Sciences' NOGI Award.
Dr. Gregory Skomal
Our Master of Ceremonies, Dr. Gregory Skomal is an accomplished marine biologist, underwater explorer, photographer, aquarist, and author. He has been a senior fisheries biologist with Massachusetts Marine Fisheries since 1987 and currently heads up the Massachusetts Shark Research Program (MSRP).  He is also adjunct faculty at the University of Massachusetts School for Marine Science and Technology in New Bedford, MA, a guest investigator at the Woods Hole Oceanographic Institution in Woods Hole, MA, and an adjunct scientist with the Center for Shark Research in Sarasota, FL. He holds a master's degree from the University of Rhode Island and a Ph.D. from Boston University.  Through the MSRP, Greg has been actively involved in the study of life history, ecology, and physiology of sharks. His shark research has spanned multiple fish habitats around the globe taking him from the frigid waters of the Arctic Circle to coral reefs in the tropical Central Pacific. Much of his current research centers on the use of acoustic telemetry, satellite-based technology, and animal-borne imaging to assess the physiological impacts of capture stress on the post-release survivorship and behavior of sharks. He has written dozens of scientific research papers and has appeared in a number of film and television documentaries, including programs for National Geographic, Discovery Channel, ESPN, and numerous television networks. He has been an avid SCUBA diver and underwater photographer since 1978. Although his research passion for the last twenty-five years has centered on sharks, he has been an avid aquarist for over thirty years having written eleven books on aquarium keeping. His most recent book, The Shark Handbook, is a must buy for all shark enthusiasts. He is a Boston Sea Rover, and his home and laboratory are on the island of Martha's Vineyard off the coast of Massachusetts.  He has also been seen on TV quite a bit over the past few years, most notably as his role as the head biologist in charge of tracking and tagging a group of Great White sharks that were congregating close to the islands off Chatham, MA.
DISCLAIMER
Please note that participants scheduled to speak at any Sea Rovers Clinic event are subject to last minute travel and work emergencies that are inherent when working with state-of-the-art gear being used to push the boundaries of exploration and discovery. Participant list subject to change at last moment – please come back often for updates and additions to our exciting film festival line up.