2021 Saturday Evening Film Festival

2020 Sea Rover Evening Show Presenters
Seating begins at 7:30
Show begins at 8:00 pm sharp
The jewel of each annual Clinic is our Saturday Evening Film Festival. The Sea Rovers take pride in the fact that we have continuously blazed the trail in the underwater world, premiering more speakers and presentations from our stages than any other show.
Presenters will be announced as they are confirmed and are listed below in no particular order.
Erin Quigley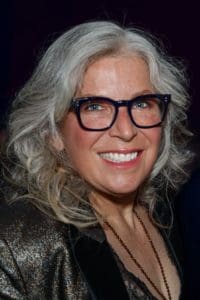 Erin Quigley, the Master of Ceremonies for the evening, is an Adobe ACE certified expert specializing in post-production techniques specifically developed for underwater shooters. She is an award-winning photographer, a member of the Women Divers Hall of Fame, Boston Sea Rovers, and Ocean Artists Society. Erin writes the Imaging Techniques column for Scuba Diving magazine, leads trips, and teaches workshops worldwide.
Erin began her career as the resident costume designer for Chicago's famed Steppenwolf Theatre Company, during which time she earned two Tony Award nominations for her work on Broadway. In the ensuing years, she returned to her hometown of Los Angeles and designed the television sitcom "Roseanne", along with many other stage, television, and film projects, eventually working as a producer and development executive in collaboration with 20th Century Fox and Warner Brothers Television.
Concurrent with her work in television and film, Erin became an avid scuba diver and underwater photographer. She immersed herself not only in the art of underwater photography, but also in the art of digital imaging and post-production. She left the entertainment world to study at the Art Center College of Design in Pasadena, California, where her passion for learning new technologies evolved into a passion for teaching underwater photographers how to maximize the potential of their images via post-production.
Erin is motivated by her strong belief that exceptional imaging inspires awareness and stewardship of our fragile marine environment.
Kelvin Murray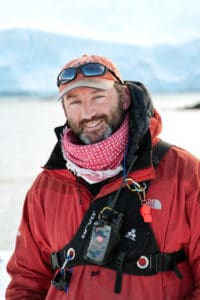 Kelvin is Director of Expeditions Operations & Undersea Projects with EYOS Expeditions. His decades of hard-won knowledge have been earned through complex missions on every continent and every ocean. As Expedition Leader, Kelvin has led numerous logistically-complex trips involving diving, submersibles, ROVs, mountaineering, kayaking, camping, hiking, filmmaking, and helicopter operations.
Working with the British Antarctic Survey, he managed the UK's scientific diving program throughout the extreme environment of the Antarctic winter. Kelvin has led exploratory diving expeditions throughout Svalbard, the world's largest fjord system in East Greenland and the Antarctic wildlife paradise of South Georgia, altogether supervising several thousand polar dives.
Kelvin sits on the Executive Committee of the Association of Arctic Expedition Cruise Operators (AECO) as well as several other operational committees and is regularly consulted by Canadian and Arctic authorities regarding operations in the Northwest Passage. Kelvin has contributed to several scientific papers on polar marine ecosystems and his various adventures have been recognized by being elected a Fellow of the Royal Geographical Society, a Fellow International of The Explorers Club and invited to join both the prestigious and historic  Antarctic Club and the Arctic Club.  For his Arctic emergency preparedness work and projects with indigenous communities, he was recently made a Fellow of the Royal Canadian Geographical Society.
EYOS Expeditions provided the project management, expedition leadership and expertise for the Five Deeps Expedition, and the current Ring of Fire Expedition.  Kelvin is part of the expedition leadership team for these projects and will be coming to the festival from the field.  The Five Deeps Expedition was the first to attempt to reach the deepest point in each of the Earth's five oceans: the Puerto Rico Trench in the Atlantic, South Sandwich Trench in the Southern Ocean, Java Trench in the Indian Ocean, Challenger Deep in the Pacific and Molloy Deep in the Arctic.  He looks forward to sharing some images and tales from these record-breaking expeditions at the Boston Sea Rovers Film Festival.
Erick Higuera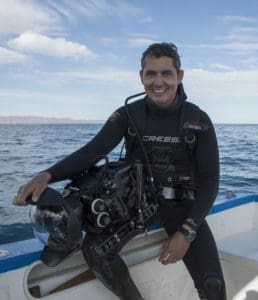 Erick Higuera is a Mexican multi-award winning wildlife filmmaker; photographer and marine biologist specialized in marine wildlife films and aerial cinematography. He has explored for over 20 years the waters surrounding the Baja California Peninsula, Guadalupe Island and the Revillagigedo National Park filming and photographing great white sharks, giant mantas, whales, dolphins, billfish and other spectacles in the deep blue off Mexico's Pacific shores.
His work has appeared on several natural history documentaries including BBC NHU productions like Shark BBC One, Blue Planet II, Blue Planet Live and Our Planet, as well in Discovery Channel, National Geographic and Shark Week.
Mr. Higuera is one of the principal image-makers for Pelagic Life, a non-profit civil organization with the mission to protect the mega marine fauna in the Mexican open ocean through awareness using inspiring images, fomenting sustainable ecotourism and promoting responsible seafood consumption. Erick's catalog is filled with amazing images of some of the ocean's largest inhabitants.
He's also a marine scientist and one of the principal leaders of MANTA PACIFICO group whose mission is to lead scientific research of the Oceanic Giant Manta in the Gulf of California and the Revillagigedo Archipelago with the objective of helping to create better management plans in order to increase the conservation of the species.
http://www.erickhiguera.com/
http://www.vimeo.com/erickhiguera
Ryan King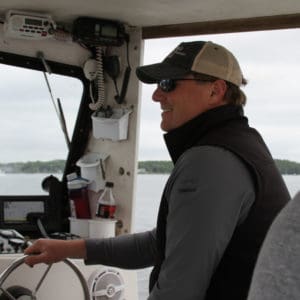 Ryan started diving in 1990 and has never looked back. For over 25 years, Ryan has been diving, teaching, and photographing marine life, caves and wrecks from Canada to the Caribbean. He has a passion for exploration and helping others enjoy and appreciate the underwater world.
For the last few years, much of his diving has been focused on locating and documenting new wrecks in New England with the rest of the Nomad Exploration Team.  Recent discoveries include the William H. Machen a collier lost during World War II. Most recently, the team discovered the USS Eagle 56 which was sunk just weeks before Germany surrendered in World War II. The team is looking forward to sharing footage from that project that has never been shown before.
Dustin Adamson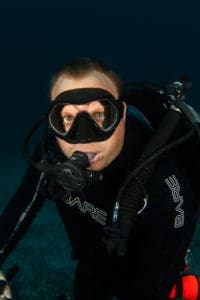 Dustin Adamson is a multi-international award winning underwater cinematographer. He was certified to scuba dive back in 1996. Based out of Salt Lake City, Utah, he is completely self-taught, and has been filming since 2011. In 2002, he married his wife Tyra Adamson, an accomplished underwater photographer in her own right. They both own and operate www.OceanShutter.com. His favorite subjects to film underwater are both big and small creatures.  Having traveled all over the world, he is always searching for the perfect shot.  In 2015, Dustin had the honor of being invited to be a member of the Ocean Artists Society. Dustin work will be presented in the opening sequence of the 2020 Film Festival.
Richard Simon & Joe Mazraani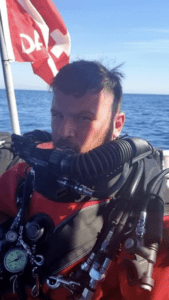 Richard M. Simon grew up diving and crewing on New England dive boats. Rick is a Boston Sea Rover & Frank Scalli Intern (2005) and  a TDI dive instructor holding both recreational and technical ratings. Rick is also the president of Manta Industries- a dive equipment manufacturing company; and is the vice president of Shoreline Diving Services, INC.- a commercial diving company specializing in inspection, salvage and construction. Rick is an avid diver; especially enjoying cave and wreck diving mostly on the East Coast but really anywhere around the world. When he is not diving he enjoys spending time on his with- with his wife Erin and their many farm animals.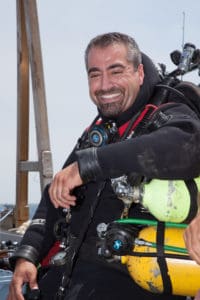 Since childhood, Joe Mazraani has been fascinated by the sea, its creatures and the treasure that is the underwater world. Growing up in Lebanon, Joe spent his summers by the Mediterranean. He immigrated to the U.S. at age 15 and became a certified diver in the mid-90s. Joe quickly took to diving sunken wrecks off the Northeast U.S. coast and instantly developed an obsession with exploring the sunken hulks that litter the approaches to New York Harbor.
Shipwreck exploration is a way of life for Joe. He owns and operates the dive vessel Tenacious, which was specifically acquired and outfitted to accomplish several projects, including locating and exploring U-550 and other deep, uncharted wrecks in the North Atlantic. A criminal defense attorney by trade, Joe is also a U.S.C.G. licensed captain.
Evan Kovacs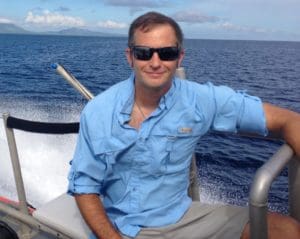 Evan works with the Advanced Imaging and Visualization Lab at Woods Hole Oceanographic Institution where he has been involved in and led numerous expeditions utilizing remotely operated vehicles ("ROVs"), submersibles and technical diving to survey and film everything from the R.M.S. Titanic to deep sea hydrothermal vents to underwater mountains off the New England coast. Evan also owns and operates Marine Imaging Technologies, LLC, a company that specializes in imaging the underwater world for documentary, science, and survey purposes. During the past 15 years, Evan has helped build and operate numerous HD, 3D, 4k and 8K imaging systems to film both above and below the water for broadcast television, museums, scientists and institutions across the world. His underwater and topside work can be seen on National Geographic, History Channel, Discovery Channel, PBS, CBC, BBC, NHK and elsewhere.
DISCLAIMER
Please note that participants scheduled to speak at any Sea Rovers Clinic event are subject to last minute travel and work emergencies that are inherent when working with state-of-the-art gear being used to push the boundaries of exploration and discovery. Participant list subject to change at last moment – please come back often for updates and additions to our exciting film festival line up.