Joe Romeiro, 2019 Diver of the Year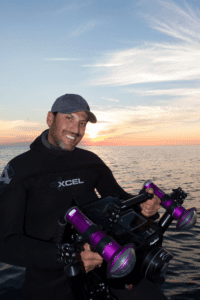 Joe Romeiro is a multi-award winning professional underwater cinematographer, as well as a producer, director, editor, photographer, artist, and shark researcher.  He has worked as a T.V. show presenter for many of the world's top production companies and networks including the BBC, National Geographic, Discovery Communications, Facebook, Oprah Winfrey Network/OWN, MSNBC, NBC, CBS, FOX and Lionsgate Pictures.  He has been a regular on Discovery Channels SHARKWEEK and National Geographic's SHARKFEST.
Joe is one of the founders of the Atlantic Shark Institute, a member of the Explorer's Club, Ocean Artists Society and a Boston Sea Rover. He has worked with many of the top scientists in the field of shark research and behavior earning a reputation as a highly- respected shark naturalist with over a decade of experience filming and interacting with different sharks from all over the world.
The inscription on his bowl reads:
STORY TELLER, ADVENTURER, CINEMATOGRAPHER,
FOCUSING ON THE BEAUTY OF SHARKS, ONE FRAME AT A TIME